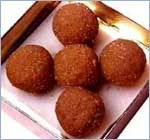 Ingredients for Besan Ladu:
Gramflour(besan): 3/4 cup
Sugar: 3/4 cup
Ghee: 1/3 cup
Sooji(semolina): 2 Tbs
Cardamom: 1/2 teaspoon (Powdered )
Cashew nuts: 2 Tsp(optional)
Saffron color: 3 drops
Method of preparation for Besan Ladu:
In a heavy bottomed pan heat the ghee add cashew nuts wheb slightly brown add gramflour and semolina and fry (on low flame) till it is slightly brown .Put add cardamom mix well when the above is done. Put it on to a thali and let it cool well. Mix sugar and saffron color . when the gramflour mix has cooled add sugar mixture and mix well. Roll out medium sized ladus and store it in airtight containers. Your besan ka laddu is ready.
Best place to Send Diwali Gifts to India